So as of today, The Times and The Sunday Times have disappeared from our world wide web (UPDATE: or has it? see below). Unless of course, you are paying the £2 per week subscription fee (see Adam Westbrook for a good summary). It seems there are no excerpts to tempt non-subscribers, no text for search engines, no RSS feeds for simple syndication, no value for sharing with friends, and therefore, no content marketing.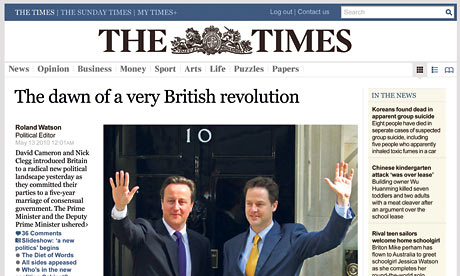 One element of the paywall debate that is often missed, is the marketing cost that must be accepted when a news site goes behind a wall.
Take the print paper for example. There is no better marketing, no better brand awareness strategy, than having your frontpage in EVERY newsagents, supermarket and petrol station. If you took your newspaper off these display shelves, selling would become incredibly hard.
And so it is online. The best marketing is the content. Not only does The Times have to convert tens of thousands of previous non-paying readers into paying subscribers, but also fund a significant ongoing marketing effort to ensure new subscribers continue to be added.
Someone from The Times said today that "it's only the cost of a coffee." Very true. Except that in this instance all other coffee houses of comparable quality, and which happen to be located next door, are giving away latte's for free.
I would love it to succeed, as it would provide more diversity of business models in the market and would indicate a strong future for funded journalism, but whatever happens it will provide a superb data point for the UK news industry to base its planning. I have now registered and will be watching it
The media industry is turning upside down. Brands are now media companies, creating and giving away open content, and newspapers are now brands, trying to sell a closed and controlled product.
UPDATE: At the moment, paywall-protected content from thetimes.co.uk is also being cross-published on the old and free timesonline.co.uk site. For how long… well at least for the trial period of the new paid site. Drew Broomhall of The Times says "parallel running [of the sites] is tbd". Surely this can't be a unannounced way of continuing a parallel free and paid strategy?
Related articles by Zemanta